Haparo Foundation was formed by the brothers Dr. Niren Suchanti and Navin Suchanti of Pressman and Sinclairs, who had a dream to build something permanent and of social relevance to perpetuate the memory of their parents, the late Harsha Chand Suchanti and the late Padmabati Suchanti and Dr. Suchanti's son Rohan who passed away at the young age of 34.

The dream has taken shape with the formation of Haparo Foundation, a non-profit making initiative. The name has been coined using the first two letters of the names of the three departed souls. Haparo Foundation has been established with the objective of promoting education, health care, women empowerment, self-employment, hygiene and sanitation for the welfare of the poor and economically weaker sections of the society irrespective of caste, creed and religion.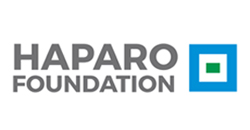 Promoted by Dr. Niren Suchanti and Navin Suchanti in memory of Late H C Suchanti, Late Padmabati Suchanti and Late Rohan Suchanti.